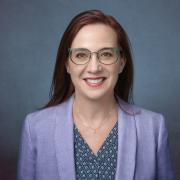 Elizabeth Mertz, PhD, MA
Department of Preventive and Restorative Dental Sciences
Healthforce Center
UCSF School of Dentistry
Dr. Elizabeth Mertz is associate director of research at Healthforce Center at the University of California, San Francisco. In this role, Dr. Mertz is responsible for developing new research opportunities and cultivating faculty connections. She is a professor at the UCSF School of Dentistry in the Department of Preventive and Restorative Dental Sciences, with a joint appointment in the Department of Social and Behavioral Sciences in the School of Nursing. She is also affiliated with the UCSF Center to Address Disparities in Children's Oral Health (CANDO) and the Philip R. Lee Institute for Health Policy Studies.
Dr. Mertz's work covers a broad range of health professions workforce issues primarily focused on dental care, including supply and demand of providers, health care regulation, state and federal workforce policy, delivery system design and finance, access to care, and evolving professional practice models. She works at many levels to assist organizations and individuals to understand, research, and address the challenges facing our oral health care system. Dr. Mertz teaching goal is to help her students gain a health policy, health services research, and sociological understanding of issues confronting the dental delivery system by immersing them in hands-on projects that require students to think critically and analyze current events. Dr. Mertz has also served on numerous advisory and planning committees for federal and state agencies, as well as nonprofit and philanthropic organizations. 
Dr. Mertz has played an active role at UCSF on committees and workgroups to advance the overall mission and function of the Healthforce Center since 1997. She developed and deployed leadership impact evaluation efforts for the Center's suite of programs. In the School of Dentistry, she has provided service in strategic planning and candidate reviews, chaired faculty council,  chaired the faculty COVID relief committee, and served on the Committee for Academic Freedom.
Dr. Mertz holds a bachelor's degree in Political Science from the University of Southern California, a master's degree in Public Affairs MA from the University of Minnesota, and a doctorate in medical sociology from the University of California, San Francisco.