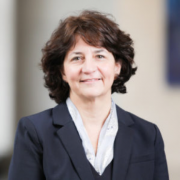 Associate Adjunct Professor
Lauren Williams, RN, DM has extensive experience working in both the community and academic settings as a senior leader, professional development specialist, and a clinician. Prior to joining Partners HealthCare International, she was the Vice President of Patient Care Services/CNO at Yale New Haven Health's Lawrence + Memorial Hospital and Westerly Hospital. She has held tenure track academic positions at Providence College (Providence, RI) and Suffolk University's Sawyer School of Business (Boston, MA).
Dr. Williams became a Registered Nurse after graduating from the Peter Bent Brigham Hospital School of Nursing. In addition, she received a Bachelor of Science from Salve Regina University (Newport, RI); a Master of Science in the Administration of Nursing Services from Boston University (Boston, MA); and a Doctor of Management awarded by Case Western Reserve University (Cleveland, OH). She holds a certificate in advanced graduate studies in Global Health from the Massachusetts General Hospital Institute of Health Professions. In 2017, she was selected to participate in the Global Nursing Leadership Institute (Geneva, Switzerland).