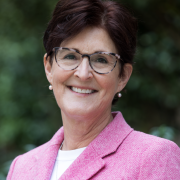 Associate Director and Clinical Professor
Dr. Lisa Lommel is the Associate Director of the Healthcare Administration and Interprofessional Leadership Program at UCSF. Dr. Lommel is also core faculty in the Doctor of Nursing Practice (DNP) program, the first online degree program in the School of Nursing at UCSF. Since joining the faculty at UCSF, Dr. Lommel has served as co-director of two academic master's programs and as director of the School of Nursing's first revenue-sharing clinic. Dr. Lommel was also instrumental in developing the School of Nursing's first collaborative master's program with Xiangya School of nursing in Changsha, China. 
Dr. Lommel holds a Doctorate in Nursing, a Master's in Public Health, and is dual certified as a Women's Health and Family Nurse Practitioner. She has more than 25 years of teaching experience at all levels of academic education at the UCSF School of Nursing and in China. Dr. Lommel is a skilled women's and family health nurse practitioner across the San Francisco Bay Area and Peru. She has expertise in reproductive, maternal-child, adolescent, and mental health as well as non-communicable diseases, social determinants of health, and health promotion and disease prevention among ethnically diverse and vulnerable individuals across the life span.
As a researcher, Dr. Lommel examines the health care needs of culturally diverse populations in the United States and abroad and more recently, the health outcomes of rural-to-urban migrant women in China. Her research focuses on the effects of acculturation on health outcomes informed by how culture influences health behaviors and disparities. As a result of her extensive clinical, teaching and research experience, Dr. Lommel presents locally, nationally, and internationally on a variety of topics, for example, women's health, evidence-based practice and health disparities in vulnerable populations.